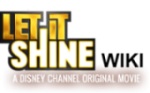 Hey everyone! It's Jessie1010, your Let it Shine Wiki admin! The wiki is building more and more and the movie is getting closer and closer! We need more help to build this wiki! So to do that we need more ADMINS! Admins are the users who run the wiki. The admins have more rights and more abilities than regular users have. Being an admin is very fun, exciting, and you get more publicity around the wiki and on wikia! Buidling your admin credits is one of the most fun things to do on wikia, so why don't you help build your admin credits by being admin here! We are looking for at least two more admins. The current admins we have here are:
FashionGal
and
Jessie1010
(me). Send us your application, in a neat order, on both of our message walls. Here is what we are looking for on your application (the bolded ones are the most important).
Your list of edits, you need to have at least 60-200 edits.
A list of wikis you are admin on or edit most on
Your ranking on the wiki
What you can do for the wiki
Sources that you know where you can get information for the wiki
Anything else you want us to know!
You can send us your application on my message wall (Jessie1010/Message Wall), and/or FashionGal's message wall (FashionGal/Message Wall). Please make sure your application is neatly formated and detailed. All applying users will get edit trackers put on your pages and we will monitor your edits. You must be under 18.
We will be excepting applications for as long as possible. Once we find our 2 admins, we will keep it open for a possible third admin. It is not guranteed that we will be looking for another admin after we get 2 but it is possible.
Whether we choose you as admin or not, we will most definitely keep all of your appilcations for the future. With these applications, we may use them to contact you if we need another admin or we may use them for other wikis and we'll see if your interested being admin there. So just sending in an application can help you!
So please send away your applications! If you have any questions, post them in the comments below and FashionGal or me will respond as soon as we can! Thank you so much!

 My Page  19:21, May 5, 2012 (UTC)
Ad blocker interference detected!
Wikia is a free-to-use site that makes money from advertising. We have a modified experience for viewers using ad blockers

Wikia is not accessible if you've made further modifications. Remove the custom ad blocker rule(s) and the page will load as expected.